The Kona Konundrum! Why Laura Siddall's NOT Following the Norm
Kona, The Ironman World Championships. The most hyped and talked about race of the year. The sole focus for many triathletes over their year or even their careers.
For me it's never been that, which sounds a little crazy when it's considered the pinnacle of our sport. However, in saying that, at the same time, it is also something that does and did consume my thoughts in the run up to the race and also in the days and weeks post race.
Whether my take on Kona is a protective mechanism…to save myself if I don't achieve qualification or the result I want…or whether I just generally believe that there are so many more awesome races around the world to experience…that to miss out on all those races and opportunities for the sole pursuit of one, which additionally relies on a lot of luck for things to go your way on that one day of the year, is a gamble too far for me….well, it's probably a mix of both.
I race a lot. I travel a lot. I'm a global nomad in some respects. I split my time between hemispheres. This year, whilst I thought it was all going to add up to slightly less races than in 2017, it actually turned out about the same, with Kona being my fifth full iron distance race of the year, and my 11thrace in total.
Over the year, but particularly in the weeks leading into Kona, when the masses and throngs arrive on the island, I'm constantly asked; "When are you going to fully focus on Kona?" "When are you really going to give Kona a crack?" "When are you not going to come into Kona, having raced so many full and half distance races over the year?" "Don't you get fed up with having no base and always travelling and being on the move?"
Whilst I know the questions are meant in good faith, and in some ways they spur me on from the belief that these people have in my ability and what they believe I could perhaps achieve at Kona, I also find the questions tiresome and in some way attacking. I probably didn't really realise this till after the fact, but it makes feel like I "should" be doing something else with my year, my season and races. Like I "should" be following the "norm", making Kona the pure focus of my year, putting all my eggs in the Kona basket, and using Kona to define myself and my success. That, what I'm doing is wrong.
It certainly also feels this way with the world of triathlon – the media, events, spectators, supporters, even athletes and coaches, only caring and judging you on your result in Kona, regardless of the other 364 days of the year and your race wins and performances around the world. I came into Kona 2018, just a few weeks after having won the ETU European Long Course Championships, yet it was like the race didn't even exist. Anyway, enough grumpiness….
So as many of you probably gather from reading this (and if you've followed me over the year or heard any podcasts and interviews), I have mixed emotions and feelings about Kona. However, I came into 2018 with an open mind about the race and to appreciate where I was. To almost be at peace with the race and to embrace the event and the occasion. I realised putting up my defensive mechanism when on the island, wasn't going to help me open up or give myself the best chance or opportunity. So I had the aim to let myself enjoy being there, to have fun and finish the day in a better place mentally than I had in 2017. 
There's no lie I was pretty fatigued arriving on the island. I've raced back-to-back full-distance races before (Challenge Wanaka and Ironman New Zealand (2016 and 2017), but I was definitely feeling a little tired off the back of the day in Madrid and the travel from Europe over to Kona. This was also of course then mixed in with, as mentioned my feelings towards the race and arriving on the island. It's a crazy place and I definitely feel the chaos. Even in the first week, as I relaxed and settled into Island Life and my training, and thought I was all under control with my feelings about the race, and place, I could feel the tension and anxiety building up inside me. The general buzz and atmosphere, friends to catch up with, commitments, as well as fitting my training in, being with the best athletes in the world, and not feeling as sparky as I'd like
Again that feeling of what 'should' I be doing? 'Should' I be meeting a friend for coffee or 'should' I not be just resting at home? Does catching up with people look like I'm not taking it seriously, that I'm not professional? Even with all my best planning and control, I could feel all these questions and feelings building up anxiety, as I also tried to quash it and tell myself I was relaxed and wasn't repeating last year.
Luckily Matt, my coach, arrived pretty early and I was able to sit down and have a good chat about feelings, emotions and how to frame the coming week and the race. With not seeing Matt on a day-to-day basis, these opportunities are so valuable and I came away feeling much more settled, relaxed and looking forward to the week ahead and, of course, the race. In that final week I had some great quality time with Matt and Paul in my training sessions. 
I had a great week. I was involved in some pretty awesome events and activities and there's a real buzz when seeing so many friends. Again, some may say I did too much and they can say that. It didn't feel like I did this year, and in contrast to 2017, I felt I had so much time that week, and so much time for me, during that weekRace day there was all the usual nerves, but I was a lot more prepared for the race morning routine that is so specific to Kona. It threw me in 2017, but this year I knew and was ready and went through race morning with the usual process; list driven, nervous and excited.
It's always special race morning in Kona. It is one of the magic moments of Kona. Treading water off Dig me Beach, the paddle boards holding the line, the pier packed, the harbour wall lines with people. The usual shit show of the swim followed, trying to find space in a huge ocean, looking for feet with 34 other women. Ok, well not that many as there were a few faster women who vanished off the front, so maybe just trying to find feet against 15 or so other women.
I'm not sure where I was but managed to find myself in a group. Over the swim I bridged up, swam over, swam back, and ultimately about 200m from the swim exit found myself popped off the back. Not ideal, but the group didn't get too far away, so it was a huge group that exited the water and tried to all run into a tiny change tent, already packed with amazing volunteers. It was a bit chaotic.
A large group headed out onto the bike, and with the short F1 like track around town, means it's more like a sprint distance race with people jostling for positions, all trying to find the right distance but not lose the group either. I was feeling pretty good and we headed up Palani turned left onto the Queen K. I was in a group and felt comfortable, telling myself to just let it settle for a bit, and then see what happens as we head up to Hawi.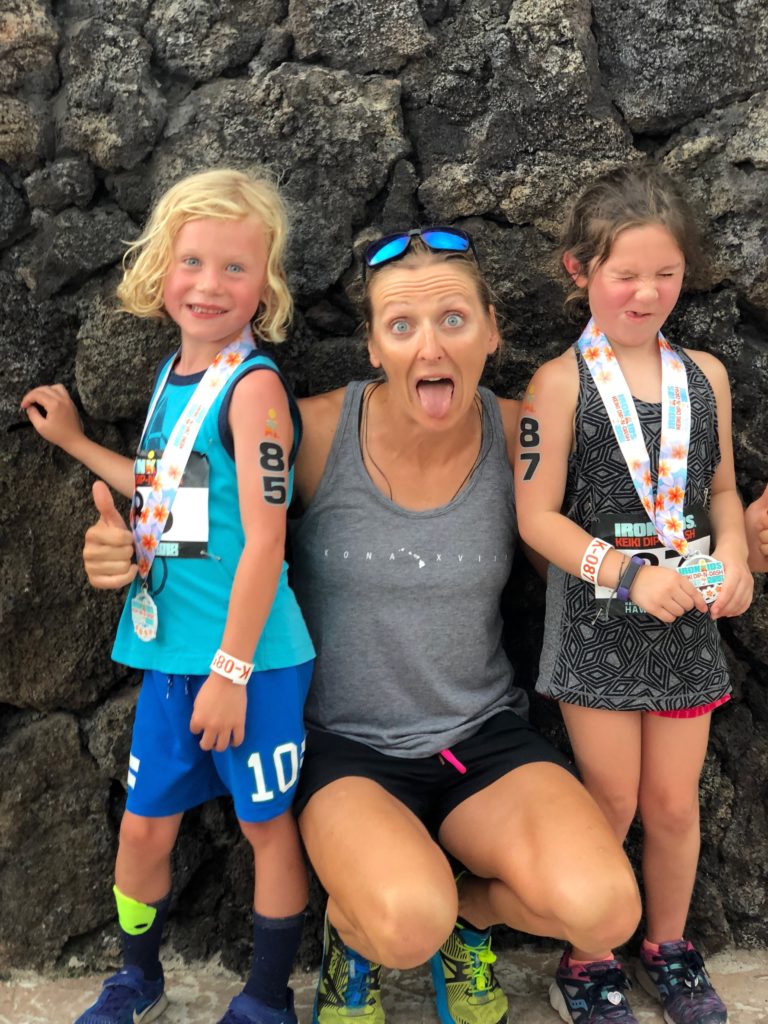 Little legends – Baxter and Holly after the Kids Run. Baxter leaving the 'silly faces' to the girls! Thanks dude! 
It was shortly after this thought went through my head that gaps started to form in front of me. One by one the women behind me came past, until I found myself with no one behind me watching the group that I wanted to be in and knew I could be in, cycling off into the distance on the Queen K. Hmmmm, not quite going to plan now. It was going to be a long day; a long and lonely day.
However, I stayed with it, thinking that I just had to keep pushing as best I could and hope that things may get better. I got a life line, seeing an athlete on the side of the road (sorry Jen). Jen Annett was at the side of the road with mechanical issues, and as I passed she jumped back on her bike. Great! This is my ticket back up to the group… and off Jen cycled into the distance. Damn! That happened about two or three more times. It wasn't going well.
Fast forward….I did start to feel better after the turn around, but that's because we had a pretty wicked tail wind, so it was going to make everyone feel better and whilst I felt I was now going a better, so would everyone else. Oh well, keep pushing and let's see how many you can run down once you get off the bike.
I don't know what position I started the run, but it was, well pretty near the back. There's always an initial buzz and also a "oh f*$k" moment when you start the marathon in Kona. I guess it's the same with each long distance race, getting off the bike and trying to work out if you packed any running legs in your T2 bag. But the Kona course for spectators is so heavily concentrated around T2 and Hot Corner, and the first section on Ali'i Drive, you feel every kind of hype and analysis as you are trying to enjoy and embrace the support and crowd, whilst at the same time working out quite how bad is it, when you're legs and body realise you still have 42.2km ahead! 
One of my goals was to smile, so I took a deep breath and promised myself I'd smile and acknowledge people. Apparently they had changed the Kona marathon and we didn't run quite as far down Ali'i Drive as previously. Really? As it sure felt we ran the same distance down to the turn around! However I felt in pretty good rhythm and found I was gaining time on the women ahead.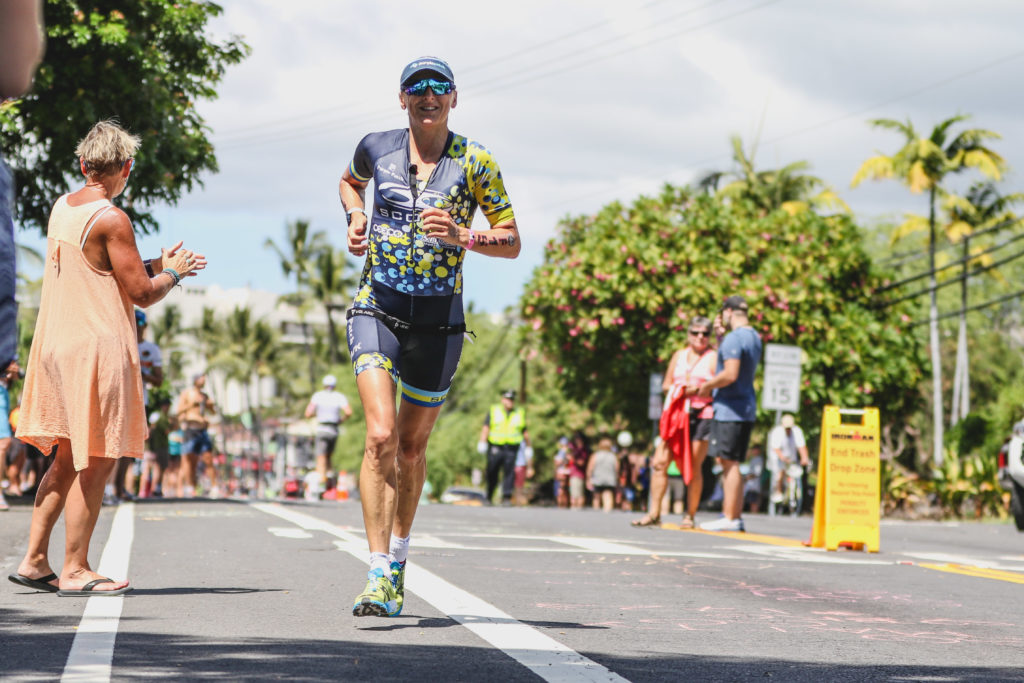 By the way back to the Pier I'd moved up five or six places. I then hit a bit of no mans land, having overtaken a group of women, but now just had the Queen K haze stretching out ahead of me, before I could reach the group ahead. Into the Energy Lab, and I'm pretty sure again that they had just added more and more kilometres onto the run, rather than the apparent redistribution, but I caught the next group of women and moved up a few more places. The Energy Lab certainly wasn't pretty, it never is I don't think, but it was a lot better than in 2017. Again exiting back onto the Queen K I found myself back in no mans, with another gap to bridge up to the next group of women. I wasn't sure if I could close it down, so just kept moving forward.
It was with two or so km to go that the next women came into view and so started sprinting up the last climb before Palani eyes locked on to her (Sorry Teresa). When I say sprinted… I'm saying this as 40km into an Ironman, so let's be honest it's not really a sprint, or even an increase in pace, but the effort was there. I turned right and hit the downhill of Palani. The quad burning section at the end of the marathon, when you are trying to chase down the athlete ahead. I managed to make the pass just at the bottom of Palani, as we turned left and hit the flat, which after the descent feels like a climb again, and you realise you still have over 1km to go!
I knew I was also close to catching Helle in front, but was running out of road. Pre race I'd decided I wanted to appreciate the finish. I didn't do this in 2017, so I'd set myself a goal of trying to take it all in this year. With this, it probably meant that whilst I'd have liked to have gained one more spot in the race*, I decided rather than seeing the finish chute in a blur as I continued to track down the athlete ahead, I took the opportunity to again smile and take in the final 100m or so. (*If this had been a spot to move into the top 10 or move up a place within the top 10 – then my pre race plan would for sure have gone out the window, and I'd have given everything to over take.)
Crossing the finish line I was relieved. Relieved the day was over. Thankful the day was over. Pleased that I managed to run through the field, and up a few places to a slightly more respectable finish, than was potentially looking likely during the bike. I had smiled and acknowledge family and friends and supporters on the run. It was actually brilliant to see people out there. Friends who I didn't know were at the race and so it was a lovely surprise to see them out cheering and supporting me.
I was in a much better state of mind than I had been in 2017. It had been a big few weeks and it was a relief I think that the race and racing was done.
But it's in the hours and days after that the storm clouds gather, and I change my goal posts on what I was wanting to achieve. But there's nothing new there, that's pretty much what I always do, the way I handle my races in the aftermath with my post race analysis. You look back on the day, the performance, the individual elements of what worked and what didn't work. Trying to find answers to the questions on why the legs weren't there on the bike etc.
Again, I the questions re-emerge, both from external and internal perspectives; "When are you really going to give Kona a crack?" "When are you not going to come into Kona, having raced so many full and half distance races over the year?" "Don't you get fed up with having no base and always travelling and being on the move?"
I became disappointed once again in the end, in my performance at Kona. It wasn't the result I'd have like. It wasn't the result that I feel is reflective of what I can do. But then I also have this weird, internal belief mixed with a lack of belief before the race, that results in a different realisation or belief after the race. If this sounds cryptic to you, don't worry it is to me as well.
These questions above, this time mixed with other questions. Some people thinking my day was great, which I felt showed that, that was all they thought I was capable of. Some people asking what happened and what went wrong. I got defensive by using my race in Madrid as an excuse; "What did they expect?" "I raced Madrid (that race that didn't exist), only three weeks ago, it was always going to be an unknown with what would happen in Kona?"
I got frustrated that people didn't see this, and just thought or acknowledged my performance as what they expected my capabilities were. I got angry that people thought this and I got angry they didn't appreciate my race in Madrid. Let's be honest it was a no win situation for anyone and everyone! Haha!
My pre race promises about smiling during the race, that I'd actually successfully achieved, should have been a tick and accomplishment. However, I turned it around as I felt that by smiling in the race, people would think I wasn't trying hard enough or wasn't taking it seriously and would think I'd given up and settled in where I was in my race, not fighting or competing to the end. 
It left me thinking… maybe I should give Kona a proper crack. There's that word again, "should". Maybe I 'should' spend a year, before my career is over, really focusing on Kona? 
At least this year after the race, it didn't leave me completely bitter about Kona and not wanting to return. Ha! There is now a part of me that is enticed to go back, that is drawn back, wanting to try to crack it, at least for myself and my performance. To give myself more of a chance and opportunity to achieve the result I feel I can. Maybe that's because now, there's another protective mechanism in place. The qualification for Kona 2019, has changed. There's going to be a lot more 'luck' needed to qualify next year. In reality, you could put in the second best performance in the world in 2019, and not qualify for Kona! Additionally, a third of the spots for the women in 2019, have already been allocated before 2018 is even over!
So maybe now, with the chance of qualifying being greatly reduced, I'm ok to say, yes if I go back I'd give it my full attention. However, with this new qualification, and yes with more of a motivation to go back there and compete and race against the other women again, I'm already saying again, I'm not prepared to change my races to chase that illusive slot. If I am fortunate to qualify with a spot from the races I do, then I'll take it, and may then adapt the schedule in the run in. But I'm not going to chase Ironman races again, adding additional races into the year, to try to get that lucky golden ticket! In fact it seems a bit like something out of Willy Wonka and The Chocolate Factory! 
However having said that no decisions are being or have been made at the moment. I'm currently coming to the end of 4-5 weeks of a break! Yes read that again 4-5weeks! I've not had a break like this in… well never as a Professional Triathlete, only as a kid with summer holidays, or actually I went back packing for three months after university! Talk about throwback! However, after the last two years of  racing and travel, I felt I needed longer, physically, mentally and emotionally. I've got a few more days left… and the motivation is starting to build to get ready to get back out there and start training and getting ready for 2019! But not quite yet…pass the wine!